We decided to go to MORNING which is famouse in NAGOYA.
If you go to cafe and order MORNING then they will serve a cup of coffee with a breakfast dish such as toast with salad.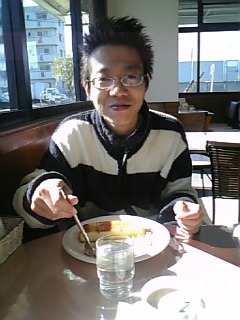 This is unique custom in Nagoya and it doesn't really happen anywhere else. So I wanted to experience Morning oneday and now it is the time to do it.
We went to the cafe near my BF's parents place called "Kome-no-Hana/Rice Flower" and order Morning. I order hot chocolate for a drink and he ordered a cup of coffeee. They served us a dish with a slice of toast and salad and bacon and egg together. It is not a big plate but I was so excited that they actually served us this complementary dish.
I hope you will wake up early and order this if you are in Nagoya.
I know my friend Graham is really interested trying this, eh?
After we had Morning, we were headding off to Italian Village.
My BF is from Nagoya but he's never been there so we decided to visit there. It was great place but I guess it is too cold to visit in Winter because it is by the Nagoya port and the wind was just tooo cold...
Even worse that I tried gellato there outside. Afterall I had stomach ache from eating this...
Anyway we had fun there and left to check NAGOYA port and the shop by the port.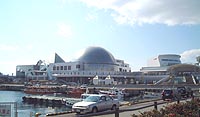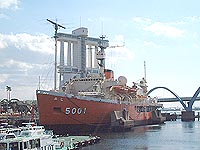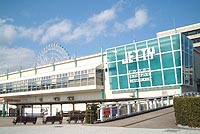 My BF and me decided to see his best friend who just had sone born in Dec. But before then we went to YAMAMOTOAYA which is famous for Miso-nikomi-udon noodle dish. Hehehe look at me. I look so happy.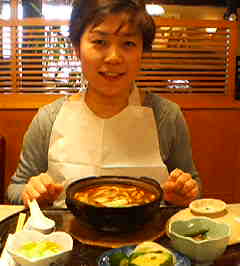 His friend's name is Mase-san who is same age as my BF and who is great father.
Look at this photo he looks so happy.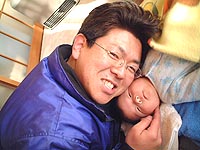 Now this is second custom in NAGOYA. If you go to cafe and order a drink, they serve pees or nuts with it.
I didn't believe it such a thing but for NAGOYA people they can not believe that the cafes don't serve any nuts with a drink order...
So this is the evidence.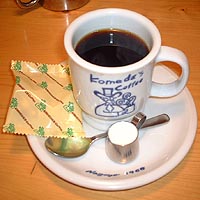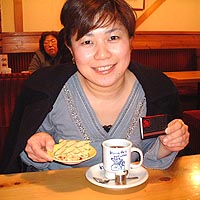 Once we left this coffee shop, he said this photo looks like that lady was spying us...What do you think?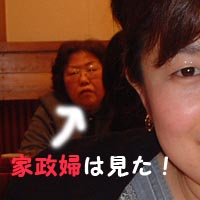 Well we don't know she is really doing that or not, it doesn't matter anyways we are innocent people.
My BF's father offered us to go and eat erl dish called "Hitsumabushi" which is also famous dish in NAGOYA and there is a role to eat this dish.
First one is plane. Second serve with seasoning. Third one with a soup with seasoning. I enjoyed this so much, and thanking you for this Otosan.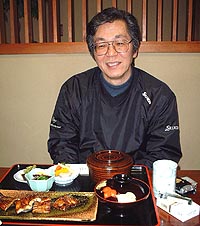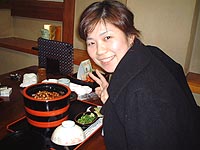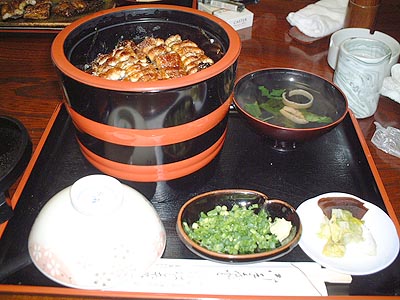 Bowl 1 >> Bowl 2 >> Bowl 3